Infrastructure
The Gyscoal Group owns its manufacturing plants in Kukarwada. The company possesses the equipment required in scrap melting, rolling, straightening, process controlling, and testing such as Induction furnace, rolling mills, reheating furnace, controller, Universal Testing Machine, Diesel Generator Set etc.
The plant holds the capacity to manufacture all grades of Stainless Steel products – from 200 series to the 400 series. With measured & strategic manufacturing process, Gyscoal plants deliver international quality products to the loyal clientèle.
The range of products includes:
▪ Equal Angle Bars
▪ Bright Bars
▪ Flat Bars
▪ Flat (pata)
▪ Ingots
▪ Stainless Steel Angles
▪ Mild Steel Angles

Steel Making

---
Hot Rolling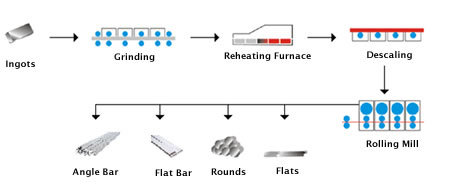 ---
Manufacturing Process of Bright Bars
Bright Bar is an industrial raw material produced by cold finishing process comprising of Drawing, Centre less Grinding, Centre less Turning or a combination of these cold finishing process.